I

ntroduction to get started in KoConnect

KoConnect helps to quickly integrate Woocommerce products with Kogan Marketplace. With this hassle-free integration, it is very easy to manage your products, and orders efficiently. Here are the steps to sign up in the KoConnect app.

Step 2: The registration Process consists of filling a few of the information as mentioned below.
Name
Email
Organization
Password: It should have a minimum of 8 characters with 1 Capital, 1 Numeric, 1 special character.
Confirm Password:

Here you need to fill in all the details and then click on the Register button.
Step 3: After login, go to the API Settings Menu to connect your Kogan & Woocommerce Account along with a few more settings.
a) Go to Kogan Settings tab
Connect the Kogan Account by entering the below details:

Kogan SellerID:

The seller Id is provided by Kogan when you create your account.

Kogan Seller Token:

You can get this from

Kogan's support.


Now, click on the Submit button.

After Logging into the Panel, It will redirect to you in Dashboard.

Default Handling time for Product: This information will get sent to Kogan while creating/updating all products.
Flat Shipping rate for Kogan Products: This information will get sent to Kogan while creating/updating all products.
b) Go to Woocommerce Settings Tab

Connect the Woocommerce account by entering the below details:
Set Default Shipping Name For Woocommerce Orders – While syncing Order from Kogan to Woocommerece, our system will set a default shipping name to all Orders synced from Kogan by using the default value.
Set Default Woocommerce Product Brand For Kogan – While syncing Products from Woocommerce to Kogan, our system will set a default Brand Name picking a value from here, if not set in the Brand field of Woocommerce product already.
Set Default Woocommerce Customer For Kogan Orders – This setup allows us to set a default customer for all the Orders that get synced from Kogan to Woocommerce. If left blank, the original details from Kogan Order will get synced as a customer into Orders of Woocommerce.
With this page, you'll be able to map the Woocommerce product category to Kogan's acceptable Category.
Step 5: Attribute Mapping
Kogan only accepts the Colour and Size of the variant & Woocommerce can have any types of attributes. So, under this page, you can map your Woocommerce attribute to Kogan's Colour & Size Variant.
For example, if you have a product attribute/variant in Woocommerce as Length, Kogan will not accept the Length as a variant. So, you need to map it to the size variant of Kogan under this page.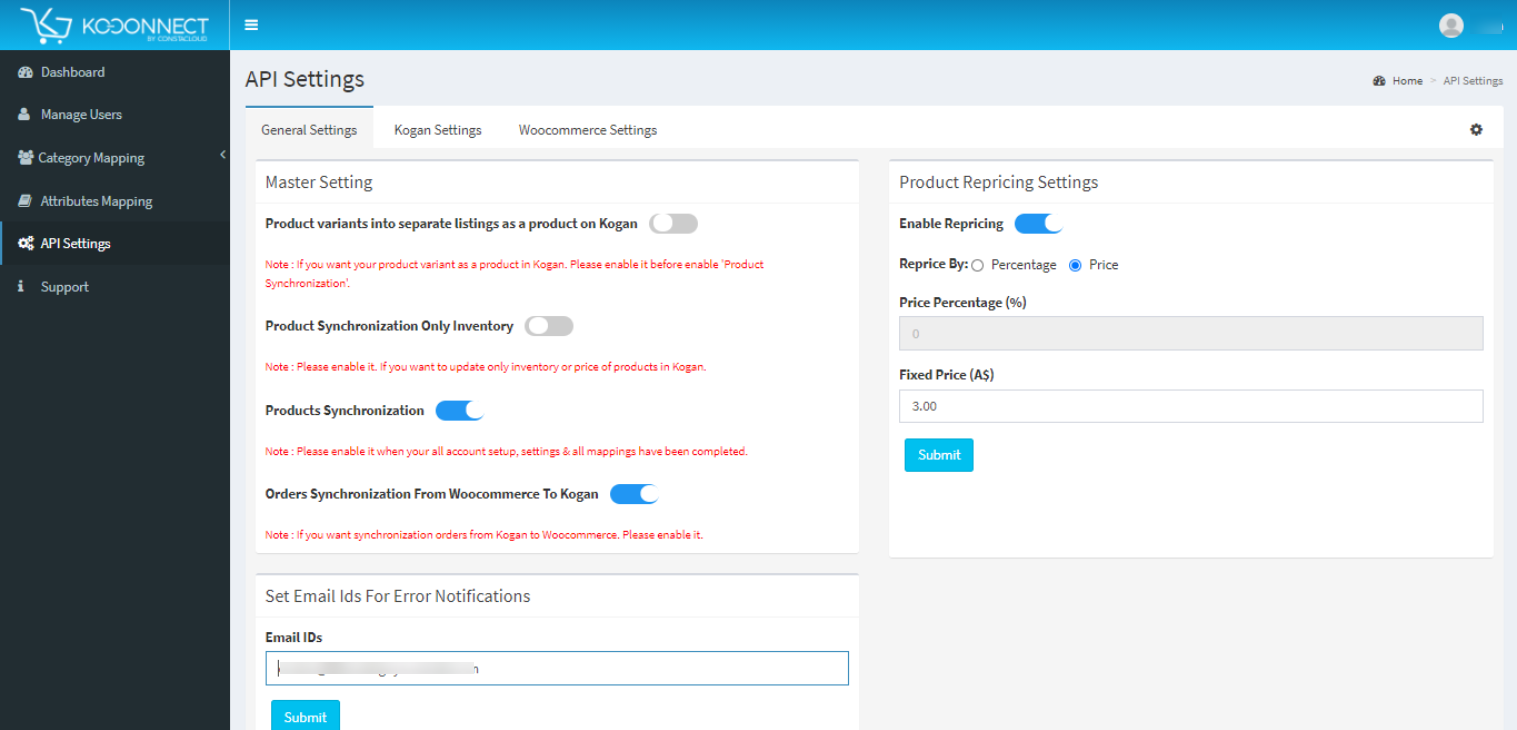 Step 6: Go to API Settings > General Settings to ON the Product & Order sync
Under Master Settings: You can enable/disable the sync of Products  & orders from under these settings.

Want to sync full Product details? – If you want to enable the full product sync which includes the create/update Products with inventory level, prices & other details from WooCommerce to Kogan, you'll need to switch ON the "Product Synchronization".
Just want the Inventory level to sync? – If you just wanted to sync the Inventory level from Woocommerce to Kogan & don't want the system to create Products into Kogan, you'll need to switch ON the "Product Synchronization" & "Product Synchronization Only Inventory"
Want to sync Variants as an Individual Product in Kogan? – If yes, this option is for you, you'll just need to enable the "Product variants into separate listings as a product on Kogan" switch along with "Product Synchronization" under this setting.
Enable Order Sync from Kogan to WooCommerce? – Enable the switch "Orders Synchronization From Woocommerce To Kogan" to get the Order sync started along with fulfillment sync back to Kogan.

Product Repricing Settings: This option will allow you to add/reduce a fixed amount/percentage to all the product's sell price that gets created/updated to Kogan via our system. We recommend to setup Product re-pricing before switching ON the product sync.
Error Email Notifications: You can add one or multiple email addresses to this section to get notified whenever there is an error while syncing the products, orders, or fulfillment information.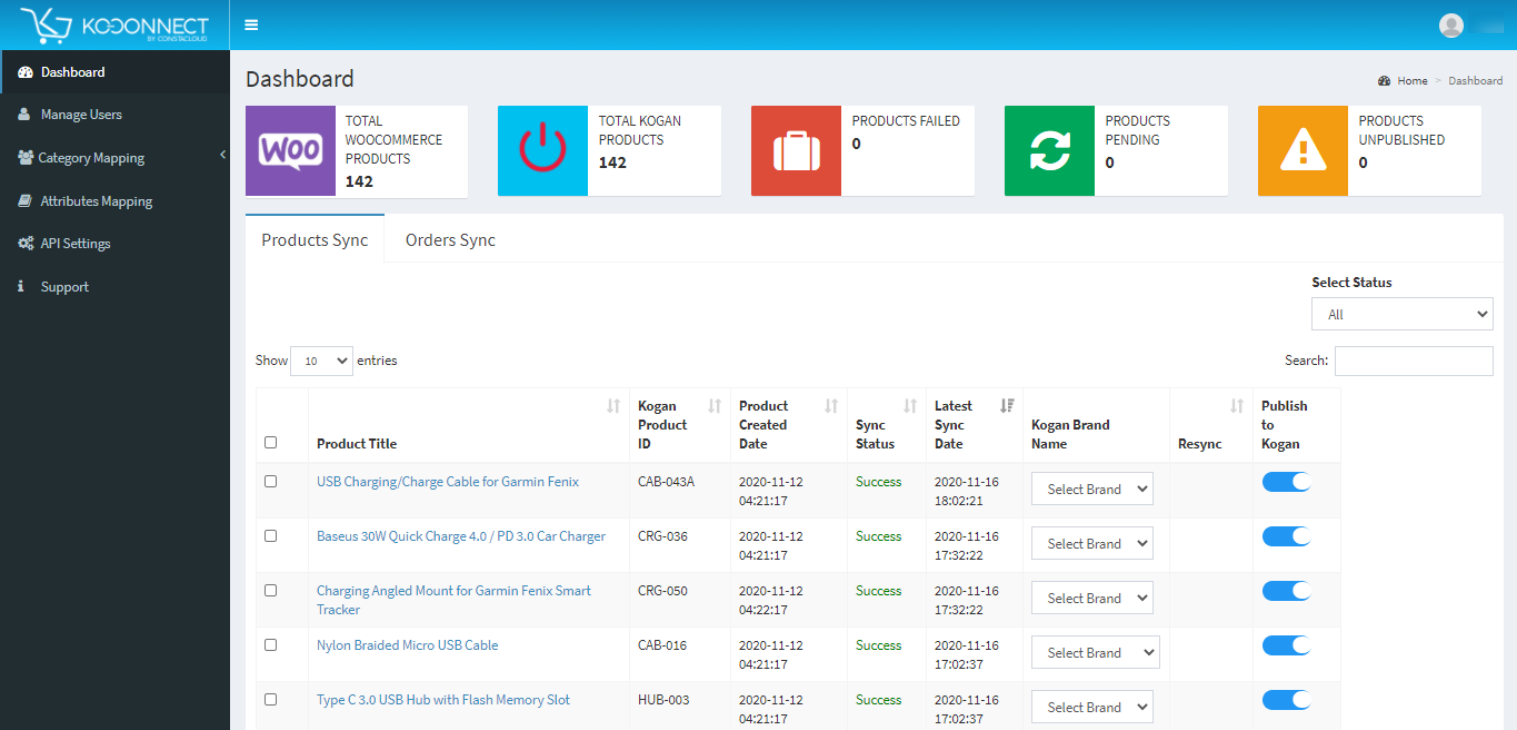 Step 7: Publish/Link Products to Kogan-
In the dashboard, you can see total Woocommerce products, total Kogan products along with failed, pending, and unpublished products. By default "Publish to Kogan Button" will be off which means the Product is not synced/linked to Kogan. You can turn it "On" for selected products or all products to be sent to Kogan.
A seller may have various employees/colleagues with whom they want to share the data. For that, you can use this feature. Here, You can add any number of users according to your need. They can only see the products, Order logs but can not control any settings.
This is the complete process to get started in KoConnect for Woocommerce. If you have any query then you can mail us at help@koconnect-app.com and you can also reach us through live chats.